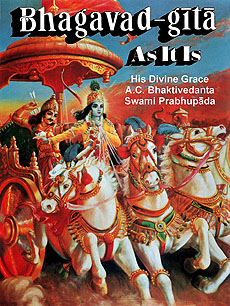 The Real Peace Formula
The Problem
 The politicians and diplomats are trying to establish peace in the world. We have the United Nations and many other organizations. They are working to establish real peace and tranquillity, to eliminate misunderstanding between man and man and nation and nation. But that is not happening. The defect is that the root is wrong. Everyone is thinking, "It is my country," "It is my family," "It is my society," "It is my property." This "my" is illusion. In the Vedic literatures it is said, janasya moho 'yam aham mameti: [SB 5.5.8] This "I-and-my" philosophy is maya-illusion.
 They want to be united, but flags are increasing daily. We have seen in New York the flags are increasing. Actually, during Maharaja Pariksit's time there was one flag only, and people were controlled by the Pandava kings all over the world, and they were peaceful.
The whole world is engaged in sacrificing energy for advancement of learning, social upliftment, economic development and plans for total improvement of the human condition, but no one is interested in sacrificing for the sake of the Lord, as it is advised in the Bhagavad-gita. Therefore, there is no peace in the world. If men at all want peace in the world, they must practice sacrifice in the interest of the supreme proprietor and friend of all.
At night such grhamedhis waste their valuable time by sleeping or by satisfying their different varieties of sexual urges by visiting cinema shows and attending clubs and gambling houses, where women and liquor are indulged in lavishly. And during the day, they waste their valuable life in accumulating money or, if they have sufficient money to spend, by adjusting the comforts of their family members. Their standard of living and their personal needs increase with their increase in monetary income. Thus there is no limit to their expenses, and they are never satiated. Consequently there is unlimited competition in the field of economic development, and therefore there is no peace in any society of the human world.
Everyone is perplexed by the same questions about earning and spending, but ultimately one must depend on the mercy of mother nature. When there is a scarcity in production or there are disturbances caused by providence, the poor planmaking politician blames it on cruel nature but carefully avoids studying how and by whom the laws of nature are controlled.
You may advertise yourself, universal brotherhood and so on, so on. This will be all failure because the center is missing. The present defect is that the center is missing; therefore there is no peace in the world. So we have to search out the center. What is that center?
If one is not a devotee of Krsna, he cannot have any good qualities, however he may be educated academically. That is not possible
Therefore, at the present moment, although the leaders are all very educated academically, but still, they cannot bring in peace in the society, because they're godless. 
Great, great leaders, on account of their godlessness, they cannot lead the people nicely. Therefore there is no peace and prosperity in the society. Go on.
They manufacture their own way, and therefore there is no peace. First World War, Second World War, Third World War, and there cannot be any peace. As soon as you become strong, you declare war. Hitler thought, "I am now strong. Let me declare war." And another strong party, America came, Russia came. He was killed. So this is no conclusion. And even after Hitler's being killed, there is no conclusion. So this sort of conflict will never bring any peace. That will go on. That is struggle for existence. That is fighting like animals. Two dogs fighting, two hogs fighting, but that is not conclusion. That fighting will go on so long people will remain as dogs and hogs. That will go on. There is no question of peace.
The Solution
People are very much anxious to live in peace and prosperity in this material world, and here in Bhagavad-gita the peace formula is given personally by the Supreme Personality
bhoktaram yajna-tapasam sarva-loka-mahesvaram
suhrdam sarva-bhutanam jnatva mam santim rcchati
The real peace formula is that one must know that God is the proprietor of all this universe, including theUnited States of America. He is the proprietor ofRussia, He is the proprietor ofChina, He is the proprietor ofIndia, of everything. But because we claim that we are the proprietors, there is fighting, there is discord, there is disagreement, and how can there be peace?
We are simply guests for fifty or a hundred years. We come and go, and while one is here, he is absorbed in this thought: "This is my land. This is my family. This is my body. This is my property." And when there is an order from the Supreme for one to leave his home, his property, his body, his family, his money and his bank balance and it is all gone, one has to take another place.
Men should offer everything to the transcendental service of the Lord because He is the proprietor of all planets and the demigods thereon. No one is greater than He. He is greater than the greatest of the demigods, Lord Siva and Lord Brahma, therefore the enjoyer of all activities, political, social, cultural, religious, economic and so on.
So when you, actually when we serve God, then we can serve everyone. Because that is real position. Just like if you love your father, then you can love your brothers also. Because you know that "If I don't love my brothers, then father will not be pleased." The center must be the father. So without loving father, you cannot love your family members. Similarly, without loving God, you cannot love, exhibit love, in any way.
This is real proposition for peace and prosperity
 A summary from Srila Prabhupada's Vani